Podcast: Play in new window | Download
Subscribe: Apple Podcasts | Android | Email | Google Play | Stitcher | RSS
In this episode Gregg returns to the notion of interpretation and its importance, particularly for Christians, given to the extent a central text—the Bible—informs and grounds their beliefs.
Gregg explains that interpretation is a way of engaging with the world that we are always already doing.  This is so much the case that interpreting is not so much an action that we perform but something that is inherent to our way of being in the world.
In this way, we can think of our interpretation according to the four levels—or stages—of competence, ranging from unconscious incompetence (where we are unaware of our inability) to unconscious competence (where we are so skilled that can perform an action without paying attention to it).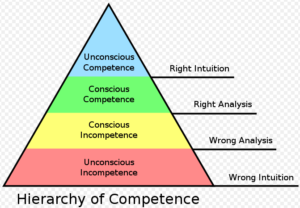 In most cases, adults interpret the world around them with unconscious competence, such a seasoned driver responding to a Stop sign.